<! ========= Cool Timeline Free 2.0.7 =========>
Present
Successful Transition to ISO 45001:2018 and ISO 29001:2020
ACT has successfully updated its Integrated Management System to new revisions of ISO Standards and received ISO 45001:2018 & ISO 29001:2020 without any major or minor audit finding.
Dubai Petroleum Long Term Project
ACT Awarded Dubai Petroleum Long term contract (5 years) for Surface Preparation and Coating Applications at Onshore & Offshore Locations.
L&T Long Term Project for EGA
L&T awarded long term project to ACT for Scaffolding, Blasting and Painting of Alumina Refinery Process Tanks at Emirates Global Aluminium, Abu Dhabi (EGA)
Saudi Aramco Approval
ACT received Saudi Aramco approval for execution of major projects in UAE
ODC Long Term Contract
Oman Drydock Company (ODC) awarded long term Blasting and Painting contract to Applied Corrosion Technology.
Siemens Three Years Long Term Contract
Siements awarded 3 year Long Term Contract for DEWA M Expansion (Jamex) Project
ACT Branch Office in Oman
To cope with growing demand and keeping in view the progressive economy of Oman, Applied Corrosion Technology as decided to open its branch office in Oman and even science ACT is extending is cooperation to DUQM.
ACT New Corporate Identity
As part its overall strategic business development plan, ACT develops & launches its new corporate identity, communication materials and mediums.
Passive Fireproofing (PFP) – Nexon/Laggan Projects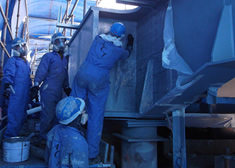 • Between 2012-14, ACT provided a record 52,035 sqm of Passive Fireproofing on two projects using over 670 tons of intumescent fireproofing material (Chartek) in the process. • The Nexon project was the larger of these two key projects with a PFP area of 33,235 sqm, while the Laggan project..
Read More
Delivery of the PUQ – A Guinness world record
ACT Regional Expansion
Completes Phase 1 of its regional expansion plans by setting up an agency agreement in Oman.
ACT HQ Relocates
ACT HO relocates to the new award-winning O-14 Building in Business Bay to better manage future expansion plans.
New Hamriyah Facility
ACT opened its record 23,000 sqm fabrication and painting facility at Hamriyah Phase II.
ACT Abu Dhabi Office
Established a dedicated Abu Dhabi office company to improve operations in the Capital.
Lamprell Facility
Lamprell Energy commissioned ACT for the surface preparation and coating for their new 51,000 sqm facility in Sharjah's Hamriyah Free Zone.
GSF Rig Refurbishment
• Painted four rigs concurrently – a total area of 225,000 m2 – in a record time of 4 months. • Including erection & dismantling of special scaffolding and painting – for 9 legs – in a record time of 2 months.